INAPPROPRIATE AFFECT
– UK
Inappropriate Affect is an Industrial DJ from Manchester, playing dark and noisy electronics…
Inspired by everyday sonic interference and the frailty and majesty of what it is to be human.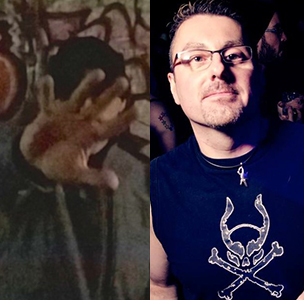 DJ RICHARD & DJ M
– UK
For 15 years The Underworld was a thriving part of the alternative scene, attracting fans from across the UK every Friday to Manchester for a vibrant fun night. Mixing the old and new, the guitar and the electro, the obvious and the obscure…
For one night only, it's back!
DJ RICH-HYBRID & DJ ESKIMOBLUE
– UK
Founders of legendary Leeds night
Resurrected
, they play old school Industrial to hands-in-the-air Trance and Techno, via Noise, Electro-Industrial, EBM, Synthpop and other musical oddities…
Expect the unexpected from these local Infest veterans!
DJ TERMINATES HERE
– UK
Guested at nights like
Reptile
,
Yesterday's Shadow
,
Electric Dreams
,
Dark Disco
and runs his own 'Irregular Events' such as 'Tragedy >For Us<'.
Has played almost every concievable kind of alternative-themed event and brings his wide stylistic range to Infest 2016.
DJ BAn
– UK
Radio DJ for
TBFM Networks Online Radio
and host of the Industrial, Gothic, Darkwave & Synthpop show
#thefix
and guest DJ for the Q Clubs The Calling & NoiZe Bastard based in Cambridge.
A lover of stomping and dark tune's prepare for an evening of Gothic love and bliss :p!!!
DJ SOYLENTBLACK
– UK
This native Londoner has organised Cyberdog parties… Been resident at Antiworld and Teknoworld… Guested at Slimelight, Sinistry, Gravity, Overdrive and La Nuit de Sade… Now to be found spinning at cutting edge nights
Blanc
and
Fluid
.
Expect full on Industrialised Techno!
DJ C1
&
DJ PAUL DOMASTER
– UK
The CTDJ's… Producers… With passion… Scene long haulers…They travel the country with The Alternative and Burlesque Fairs presented by
Heresy n Heelz
.
Mutating from
Come Trancing
into
Fetrave
these guys are experts in kinky clubbing for those that like to dress, dance & socialise!
DJ ELECTRIC DREAM
&
DJ NATHAN NOTHING
– UK
Founders of London's 'Bedsitland' and Manchester's 'Dancing and Laughing' and guests at the likes of
Reptile
,
BAS Fest
and
Electro London
expect a veritable smorgasbord of synthpop, 80s, post punk, goth and anything else that takes their fancy on the night!
DJ DURACELL BUNNY
– UK
Resident DJ for
Beat:Cancer
and guesting at many of the UK's best alternative club nights such as
Revolution
,
Analogue Trash
,
Intrusion
and
Club Recall
. A barely contained source of energy bouncing around behind the decks her beat perfect mix of EBM and synthpop is guaranteed to keep you dancing well into the early hours!
DAS OOK
– UK
Das Ook is back to bring you, Das Oontz!
The former Electrocute & now
Dark Asylum
DJ brings his brand of filthy energetic dark & tech trance, sprinkled with a topping of the best alternative industrial influences and a dash of psytrance for a full on aural assault.
He does know the power of the dark side!
DJ OLIOTRONIX
– EE
Shaking the European underground electro scene at iconic venues and warehouse events with her crazy chiptune parties and DJ sets! A host of different genres including techno, dirty disco punk, experimental, and noise dance create effortless blends of party sounds with influences from Berlin to London.
DJ ASYLUM BRIAN
– UK
DJing since 1998 in Glasgow, resident at Bedlam and latterly at Asylum, with various Goth / Industrial after-show slots in both Glasgow and Edinburgh.
From North of The Border and spinning a wide range of old and new Industrial and EBM music, expect dance floor classics to get your stomp on!