DJ DANIEL MYER
– DE –
!!INFEST DJ DEBUT!!
This man is so prolific and significant in our music genres that it beggars belief. Haujobb, Architect, Destroid, a regular appearance with the Elektro All Stars. Oh and he happens to get up on stage with a band called Covenant, and this year his latest techno project Liebknecht. Now Daniel is also taking on the Infest dance floor as a DJ!
DJ STEFAN HERWIG
– DE –
!!INFEST DEBUT!!
The A&R man for the seminal OFFBEAT records (Front Line Assembly, haujobb, Project Pitchfork…) Founder of DEPENDENT (breaking Covenant, VNV Nation, Suicide Commando, Seabound, Mind.In.A.Box). If you don't know the name now you soon will! Stefan is coming to Infest to spin cool electronic music you're going to LOVE!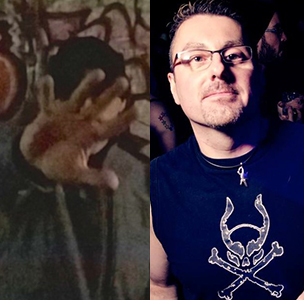 DJ RICHARD & DJ M
– UK –
!DUE TO LIMITED POPULAR DEMAND!
After 15 years The Underworld duo came back for one night at Infest 2016. Some people seemed to enjoy it, so bowing to pressure and against all better judgement they are back for another night. Mixing the old and new, the guitar and the electro, the obvious and the obscure… Welcome back to the Underworld DJs!
DJ JuDas
– UK / SE –
!!INFEST PARTNERS IN CRIME SET!!
Now based in Sweden and working both as DJ and promoter, including
ElectriXmas
in Malmö, he has played the world metropolises of New York, Los Angeles, Athens, Zurich, Rotterdam and Berlin. A resident DJ at London's legendary Slimelight for 6 years, he's back at Infest! This time with a partner in crime…
DJ MATT C
– UK –
!!INFEST PARTNERS IN CRIME SET!!
A long history of keeping dancefloors moving from indie student nights to breaks parties in disused warehouses to a Slimelight residency in the early noughties. Now guests across the London progressive scene, including regular appearances at the amazing Dance:Love:Hub, he's played Infest a few times too… Welcome back Mr Matt C!
DJ UDO
– DE –
!!INFEST DJ DEBUT!!
Founder of
HANDS
, one of the most important labels for electronic music, and
Winterkälte
, the pioneers of rhythm'n'noise. An Udo Wiessmann DJ set offers pure energy from the wide ranging rhythm'n'noise to techno universe, mashed up with Industrial Music, EBM and more.
DJ FRANKIE D
– UK –
!!INFEST DEBUT!!
One of the scenes most enduring figures as head of
Flag Promotions
since 1991 and bringing many of your favourite Industrial and EBM acts to the UK over the last 25+ years! A regular DJ at the Slimelight and various Glasgow nights, Stigmata, Asylum, Shadowplay and Club Tron, he continues to spread his eclectic web!
DJ WILDHONEY
– BE –
!!INFEST DEBUT!!
DJ, reviewer, photographer, webmaster who grew up as a teenager in the 80's with New-Wave, EBM and Punk music and has broadened his musical spectrum with influences of Metal (Thrash, Hardcore, Doom, Death, Black, Grunge, …), Alternative Rock, Crossover, New-Beat, Acid, Techno, etc… Expect an interesting mix!
DJ DIMETHOXY
– UK –
!!INFEST DEBUT!!
Helping keep the dark electronic scene alive and kicking in S Wales! The mind behind Cardiff's experimental electronic club
MK Ultra
and a DJ at long running night
Dead Of Night
. With a taste for twists on classic hits, dark, hard and gritty beats, you can expect the unexpected.
DJ GLITTERHAWK
– UK –
!!INFEST DEBUT!!
Glitterhawk is a Drag Queen, DJ and promoter based in Nottingham. Founder of
Dark Waters Alternative Festival
and a co-founder of
Batronic
and Nottingham's Queer Alternative
DirtyFilthySexy
. Born with a love of electronic music from Witch House to Synthpop, EBM, Electro and much much more.
DJ XYMOX
– AU –
!!INFEST DEBUT!!
A 2008 DJ debut in Australia led to involvement in a number of clubs and events before heading to London in 2012. Since then her varied repertoire has lead to regular Slimelight slots and guest slots at Club Antichrist, M2M2 (Northampton), Synergy (Brighton) and Makabra Gothic Dungeon (Milan).
DJ MAX SPEED
– UK –
!!INFEST DEBUT!!
Resident DJ and promoter at Manchester's
Sentinel
, Something Good 90s Night and MCR Nights online radio Synthwave mix show. A varied repertoire of musical styles will surely include something for everyone… Expect nothing but be prepared for everything!
DJ CONOR
– IE –
!!DECRYPT DUBLIN RESIDENT!!
Spins whatever he can get away with in Dublin's dark alternative scene… old-school goth to classic EBM to darkwave to electro to neo-folk to deathrock to industrial to witch-house to techno to whatever! Wish's he'd picked a cool DJ name all those years ago, but c'est la vie, he's just Conor!
DJ KOHL
– UK –
!!10th ANNIVERSARY SET!!
Stomping his signature style all over the Industrial / Fetish / Hard Dance / Hardstyle scenes… Expect an unforgettable stage presence, an infectious, powerful, dark energy, and a mix of styles ranging from dirty industrial to techno… Join us on the dance floor in celebrating a very special milestone in his career!
DJ SLACKERBITCH
– SE –
!!INFEST DEBUT!!
Swedish gothikon, former co founder of Klubb Död and dj at festivals such as Electronic Summer,
Kalabalik
,
Subkultfestivalen
and Gothic Pogo Festival. Be prepared for a very special mix of goth / 80s / electro / modern goth that will turn the dance floor into… A GOTHTASTIC POGO – PARTY!!
DJ ZONE
– UK –
!!INFEST DEBUT!!
Frontman of rising dark-wave act 'They Called Him Zone' and DJ on popular radio show 'The Dark Hour' on BCB Radio 106.6FM spinning the darkest most melancholy tunes from the 1960s to the present day. Be prepared for serious eclectic, haunting, alternative sounds.
---
To be kept up to date with festival news, please:
Join our Mailing List
Like us on Facebook
Mark yourself as attending on Facebook
Follow us on Twitter