DJ DANIEL MYER
– DE –
!!INFEST DJ DEBUT!!
This man is so prolific and significant in our music genres that it beggars belief. Haujobb, Architect, Destroid, a regular appearance with the Elektro All Stars. Oh and he happens to get up on stage with a band called Covenant, and this year his latest techno project Liebknecht. Now Daniel is also taking on the Infest dance floor as a DJ!
DJ STEFAN HERWIG
– DE –
!!INFEST DEBUT!!
The A&R man for the seminal OFFBEAT records (Front Line Assembly, haujobb, Project Pitchfork…) Founder of DEPENDENT (breaking Covenant, VNV Nation, Suicide Commando, Seabound, Mind.In.A.Box). If you don't know the name now you soon will! Stefan is coming to Infest to spin cool electronic music you're going to LOVE!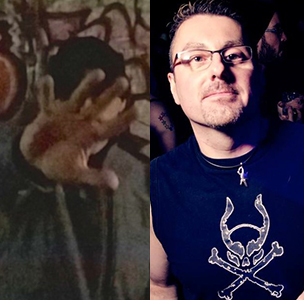 DJ RICHARD & DJ M
– UK –
!DUE TO LIMITED POPULAR DEMAND!
Escape – Sunday 26/08/18
DJ Richard
Trans-X – Living on Video
Benny Benassi – Love is Gonna Save Us
Praga Khan – Glamour Girl (Plastic People Remix)
Oomph – Augen Auf (Freizeichen vs OOMPH! Mix)
Orgy – Blue Monday
Project Pitchfork – KNKA
Covenant – We Stand Alone
Evil's Toy – Lucifers Garden
Delerium – Incantation (12″ Mix Edit)
Klangstabil – Math and Emotion (The Square Root of One)
New Model Army – Purity
Slow Readers Club – Supernatural
Nick Cave – Do You Love Me?
Pete Murphy – Cuts You Up
Ministry – Revenge
DJ Mark
Rammstein – Stripped
White Zombie – More Human Than Human
Marilyn Manson – SAY10 (Thrillsville Mix)
PWEI – Wise Up
Republica – Ready to Go
The B52s – Rock Lobster
The Bee Gees – Staying Alive
The Ting Tings – That's Not My Name
Wolfsheim – Find You're Gone
CHVRCHES – Keep You On My Side
Ladytron – Burning Up
Solar Fake – Papillon
Human League – Being Boiled
Dive – Isolation
Thrill Kill Kult – A Daisy Chain For Satan
Actors – L'Appel Du Vide
The Sisters of Mercy – Anaconda
Bauhaus – Kick in the Eye
PIL – Public Image
The Cramps – You Got Good Taste
Killing Joke – War Dance
David Bowie – Let's Dance
Blondie – Heart of Glass
Hot Chocolate – Everyone's a Winner
Fischerspooner – Emerge
DJ Richard
VNV Nation – Darkangel
Rammstein – Engel
Mesh – How Long (Assemblage 23 Mix)
Neuroticfish – Waving hands
Leaetherstrip – Sex Dwarf
Siouxsie & the Banshees – Spellbound
The Smiths – Hand in Glove
The Cure – In Between Days [for Sarah]
Depeche Mode – Never Let Me Down Again
Apoptygma Berzerk – Cambodia
The Chameleons – Swamp Thing
Psyche – Goodbye Horses
Royskopp – What Else Is There?
Kate Bush – Running up That Hill
DJ JuDas
– UK / SE –
!!INFEST PARTNERS IN CRIME SET!!
Now based in Sweden and working both as DJ and promoter, including
ElectriXmas
in Malmö, he has played the world metropolises of New York, Los Angeles, Athens, Zurich, Rotterdam and Berlin. A resident DJ at London's legendary Slimelight for 6 years, he's back at Infest! This time with a partner in crime…
DJ MATT C
– UK –
!!INFEST PARTNERS IN CRIME SET!!
A long history of keeping dancefloors moving from indie student nights to breaks parties in disused warehouses to a Slimelight residency in the early noughties. Now guests across the London progressive scene, including regular appearances at the amazing Dance:Love:Hub, he's played Infest a few times too… Welcome back Mr Matt C!
DJ UDO
– DE –
!!INFEST DJ DEBUT!!
Founder of
HANDS
, one of the most important labels for electronic music, and
Winterkälte
, the pioneers of rhythm'n'noise. An Udo Wiessmann DJ set offers pure energy from the wide ranging rhythm'n'noise to techno universe, mashed up with Industrial Music, EBM and more.
DJ FRANKIE D
– UK –
!!INFEST DEBUT!!
One of the scenes most enduring figures as head of
Flag Promotions
since 1991 and bringing many of your favourite Industrial and EBM acts to the UK over the last 25+ years! A regular DJ at the Slimelight and various Glasgow nights, Stigmata, Asylum, Shadowplay and Club Tron, he continues to spread his eclectic web!
DJ WILDHONEY
– BE –
!!INFEST DEBUT!!
Escape – Saturday 25/08/18
The Soft Moon – Burn
Then Comes Silence – The Dead Cry For No One
The Sisters Of Mercy – Amphetamine Logic
Fields Of The Nephilim – Laura II
X-Mal Deutschland – Hand In Hand
Siouxsie & The Banshees – Arabian Knights
Suspiria – Allegedly Dancefloor Tragedy
Christian Death – Spiritual Cramp
The Sisters Of Mercy – No Time To Cry
DAF – Der Mussolini
Soko Friedhof – Perversion Bizarre
Die Form – Masochist
Miss Kittin & The Hacker – 1982
Vitalic – No More Sleep
Gesaffelstein – Pursuit
DIE KRUPPS – Der Amboss
Crash Course In Science – Flying Turns
The Prodigy – The Day Is My Enemy
Korn – Break Some Off
System Of A Down – Chop Suey
DJ DIMETHOXY
– UK –
!!INFEST DEBUT!!
Main Floor – Sunday 26/08/18
15:00 – 16:00
XP8 – Cutting & Drinking (Grendel Remix)
Icon Of Coil – Dead Enough For Life
Solar Fake – Observer
VNV Nation – Control
NYX – Diabolical
Alice Glass – Without Love
Infected Mushroom – Pink Nightmares
The Glitch Mob – Skullclub
Gost – Behemoth
Seabound Vs Mindlessfaith – Domination/Bound
Squarehead – Idiot
Psy'Aviah – Virtual God
Imperative Reachtion – Side Effect
Promenade Cinema
16:30 – 17:00
IAMX – Oh Cruel Darkness
Code 64 – Sea Of Stars
Apoptygma Berzerk – In This Together
Kloq – I Never
Panzer AG – Machine Gun Go GO
Chainresactor – Gas Panic
Massenhysterie
17:30 – 18:00
Noisia – Collider
Haezer – Machine
Botek – Touch Me
BTSM – Hell Motel
Organ Donors – Zombie Nation
LazerPunk – BlackLambo
SAM – 24 Stunden
Phosgore – 20 Ways to Kill Someone
Drakenwerks – No Prisoners
Valhall
18:45 – 19:15
Suicide Waves – In My Eyes
Magnetic Man – The Bug
Monstrum Sepsis – DSC
Anowrexiya – Motion
God Module – Victim Among Friends
Seraphim System – Riot In Progress (Grendel Remix)
Patenbrigade Wolff – Maurrerradio
Elegant Machinery
20:00 – 20:30
BelezeBass – Hell Yeah
Prodigy – Lust For Life
GlitchMob – Seven Nation Army
Klash Up – Miss Murders Personal Jesus
Rabbit Junk – Fffriends?
Combichrist – We Rule The World
Freakangel – Ones To Fall
Shiv-R – Eye Of A Needle
Strvngers
DJ GLITTERHAWK
– UK –
!!INFEST DEBUT!!
Glitterhawk is a Drag Queen, DJ and promoter based in Nottingham. Founder of
Dark Waters Alternative Festival
and a co-founder of
Batronic
and Nottingham's Queer Alternative
DirtyFilthySexy
. Born with a love of electronic music from Witch House to Synthpop, EBM, Electro and much much more.
DJ XYMOX
– AU –
!!INFEST DEBUT!!
A 2008 DJ debut in Australia led to involvement in a number of clubs and events before heading to London in 2012. Since then her varied repertoire has lead to regular Slimelight slots and guest slots at Club Antichrist, M2M2 (Northampton), Synergy (Brighton) and Makabra Gothic Dungeon (Milan).
DJ MAX SPEED
– UK –
!!INFEST DEBUT!!
Main Floor – Saturday 25/08/18
15:00 – 16:00
Die Krupps – Part of The Machine
Chrom – Loneliness
Shadows and Mirrors – Video Tapes
De_Vision – Rage (Mesh-Tantrum Mix)
Xyntec – It's All Strange
Information Society – Running
Psy'Aviah feat Ayria – Into The Game (Suicidal Romance remix)
Turul – Mad World (Rob Dust remix)
Apoptygma Berserk – Shadow (Technomancer remix)
Vieon – Starfighter
Prodigy – Warriors Dance (Far Too Loud re-fix)
Rotersand – Gothic Paradise
Psy'Aviah feat Lumi French – Looking For The Sun (French Skies remix)
Neonsol – Promised Land
Enomine – Enomine (Original Club Mix)
16:30 – 17:00
Alice In Videoland – Going Down
Helalyn Flowers – Morphine
The Van Dammage – Electrifying
Psy'Aviah feat Fallon Nieves – Reboot, Reset, Relay
Method Cell – Drop Dead (Replica remix)
Project Pitchfork – Timekiller (And One remix)
Dreams Divide – Puppet Love
17:30 – 18:00
ES23 – Wake Up
Shredder 1984 – Mechanical Doppelganger
Avarice in Audio feat Studio-X – Anguish of Cain
Modulate – Nightmare
Wolfsheim – The Sparrows and The Nightingale
Scandroid – Salvation Code
18:45 – 19:15
Black Boots – This Shit Will Fuck You Up
Suicide Commando – Bleed For Us All
Die Krupps – Robo Sapien
Grendel – Flux (Xenturion Prime remix)
Deadlife – Hard Bitch
Psy'Aviah feat Fallon Nieves – Not What I Expected
20:00 – 20:30
Sebastian Komar – Game of Thrones Theme
Extize – Freed From Desire
Straftanz – Tanz Kaput (Mesmers Eyes remix)
Dance With The Dead – Riot
Alien Vampires – Harsh, Drugs & BDSM (Modulate remix)
VNV Nation – Tomorrow Never Comes
Scandroid – Thriller
DJ CONOR
– IE –
!!DECRYPT DUBLIN RESIDENT!!
Spins whatever he can get away with in Dublin's dark alternative scene… old-school goth to classic EBM to darkwave to electro to neo-folk to deathrock to industrial to witch-house to techno to whatever! Wish's he'd picked a cool DJ name all those years ago, but c'est la vie, he's just Conor!
DJ KOHL
– UK –
!!10th ANNIVERSARY SET!!
Stomping his signature style all over the Industrial / Fetish / Hard Dance / Hardstyle scenes… Expect an unforgettable stage presence, an infectious, powerful, dark energy, and a mix of styles ranging from dirty industrial to techno… Join us on the dance floor in celebrating a very special milestone in his career!
DJ SLACKERBITCH
– SE –
!!INFEST DEBUT!!
Escape – Friday 24/08/18
Mr.Kitty – Destroy me
Clan Of Xymox – Jasmine and Rose
Sisters Of Mercy – Dominion/Mother Russia
The Damned – Shadow of love
Echo and the Bunnymen – Lips Like Sugar
Tones On Tail – Go!
The Chameleons – Don't Fall
The Mission – Wasteland
Then comes Silence – Strangers
Sex Beat – Sex beat
Soft Cell – Sex Dwarf
Veil Veil Vanish – Modern Lust
Boytronic – You
Boy Harsher – Modulations
Crystal Castles feat Robert Smith – Not In Love
Mono Inc – Children Of The Dark
The Birthday Massacre – Kill The Lights
Pulp – Common People
DJ ZONE
– UK –
!!INFEST DEBUT!!
Escape – Friday 24/08/18
Huggin and Kissin – Big Black Delta
Kalt – Kaelan Mikla
Degré Zero – Grand Blanc
Shadow – Chromatics
Boy Keep Swinging (Bowie Mix) – Hirsute Pursuit
Amputation – The Jesus and Mary Chain
You Don't Look So Good – Dead Combo
It's Not Easy Being Strange – Zeitgeist Zero
Ceremony – New Order
Run – Boy Harsher
Cold November – Paradox Obscur
Sex – Berlin
She Past Away – Alt Ego
Smalltown Boy – Bronski Beat
Fuck The Pain Away – Peaches
I Fink You Freeky – Die Antwoord
Electronic Rock Transmission – Rotersand
Metal Machine Music – Die Krupps
Du Hast – Rammstein
All Fakes Must Die – Alien Vampires
Black Leather Gloves – Cosmetics
Seventeen – Ladytron
A Real Hero – College & Electric Youth
Goodbye Horses – Q Lazzarus
She's Gone Away – Nine Inch Nails
Stripped – Depeche Mode
Nightcall – Kavinsky
Don't Call – Desire
Madame Hollywood – Felix Da Housecat
Beat The Beat Chrysta Bell & David Lynch
More Alone – Tropic Of Cancer
---
To be kept up to date with festival news, please:
Join our Mailing List
Like us on Facebook
Mark yourself as attending on Facebook
Follow us on Twitter