Check-in / Check-out
Check-In & Check-Out information will be sent to bookers nearer the event during August.
---
Car Parking
Please visit the dedicated PARKING page here.
---
What to Bring
Bedding, towels, cutlery, crockery and other kitchen things etc are NOT provided. Please remember to bring these things with you!.

Laundry cards are available to purchase from the launderette (not included in the price of your stay).

Please DO NOT bring pets with you as these are not permitted in University Halls. Assistance Dogs ARE permitted however. If you have an Assistance Dog of any kind please get in touch in advance if possible please. Details of how to contact us are on the Contact page.
---
In the event of problems
If you have any security or safety concerns, or in case of lost keys etc, please contact Richmond Building Security at any time, 24hrs a day, 7 days a week.
The desk phone number is +44(0)1274 236 999

Please note that all rooms and shared parts of the buildings will be inspected before anyone arrives. If however you discover any damage to the property, please report it immediately to the Orchard Reception or Richmond Building Security as applicable.

Failure to highlight any issues on first arrival may result in you being responsible for them when the room is inspected on your departure, so please do make sure you alert the Orchard Reception in case of any problems.

– Thank you.

---
Travel
The halls and venue are both located on Longside Lane, and are part of the main University of Bradford campus.

The official address of the University is:
University of Bradford, Bradford, West Yorkshire, BD7 1DP, UK.

Use these postcodes for Sat Nav purposes:
BD7 1BX – The Green Accommodation – MAP
BD7 1SR – Main Venue – MAP
If you plan to park on site, you must display a parking pass! Click here for full details.

If coming by train, you need to get to Bradford Interchange OR Bradford Forster Square. Both stations have taxi ranks.

Tell taxi drivers to take you to the Green on "Longside Lane" at the University. This is the easiest place to be dropped off with luggage when staying at the halls accommodation at the Green.

The closest airport is Leeds Bradford International Airport
Alternatively Manchester Airport is bigger with better connections and still quite easy to travel from by train or by road on the M62.
---
The Orchard Reception
You can find the Orchard Reception on Googlemaps by clicking here.
NOTE: the building is next to the small pond marked on the map.

Richmond Building Security
You can find Richmond Security on Googlemaps by clicking here.
NOTE: the building is across the small car park and up the hill on Richmond Road when walking from The Green.
---
This map snapshot shows the Orchard Reception building, located at the centre of the halls complex (click image to zoom):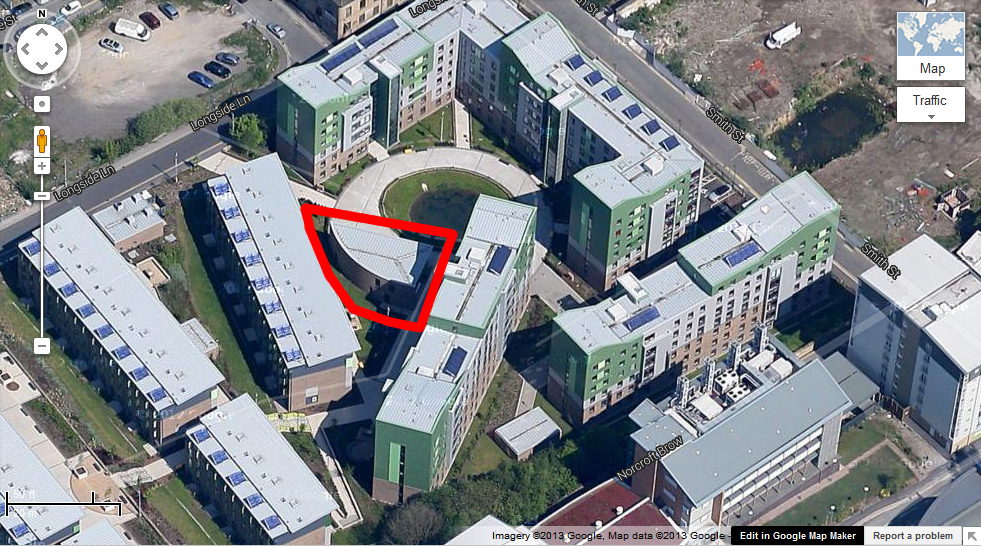 ---
This map snapshot shows the walking route from the halls to the venue (click image to zoom). The Richmond Building Security Office is identified with Yellow in the bottom right corner: