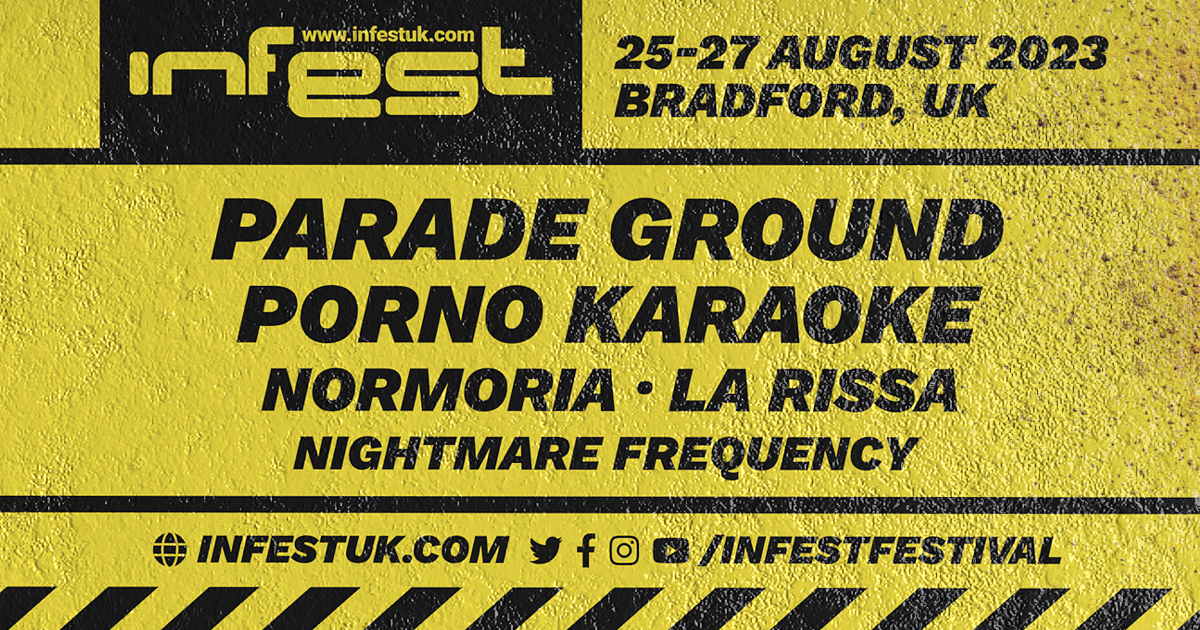 PARADE GROUND // PORNO KARAOKE // NORMORIA // LA RISSA // NIGHTMARE FREQUENCY …and MORE!
Parade Ground
Parade Ground are composed of two brothers Pierre and Jean-Marc Pauly who started performing live in 1981. They were pioneers of Cold Wave and Electronic Body Music.
Their style has evolved during the eighties, passing from an icy and radical cold wave to a more dancing sound with noticeable rythmics and exclusively synthetic melodies mixed up with dreamy visual dadaism.
Parade Ground website // Parade Ground Bandcamp // Parade Ground Facebook
---
---
Porno Karaoke
Porno Karaoke pays tribute to various songs and artists who provided us ear-porn throughout the years … Giving classic tracks a second life with a wicked electro-industrial touch! "Mind you we are NOT A COVERBAND nor TRIBUTE BAND that wants to sound perfectly the same as the original, but instead we give the songs we (ab)use our own electro-industrial touch, with all due respect to the original (artists)".
They sound sleazy, rough, kinky, dirty and loud!
Porno Karaoke was founded by singer and producer Horny B. Soon Kinky K. (E-Drums) and Tall Mr T. (Keys) joined the live band line-up. However, be warned: this line-up can be extended with other famous Porno Karaoke guest stars with or without prior notice!
Porno Karaoke is ready to spread industrial filth worldwide! A birthday party, bachelors night, wedding, babyshower, divorce celebration or funeral coming up? Make it even worst and book PORNO KARAOKE!
Porno Karaoke Biog // Porno Karaoke on Bandcamp // Porno Karaoke Facebook
---
---
Normoria
Normoria is an American/Swedish band located in Sweden, whose seductive unique sound is a fusion of many elements: primarily dark electro and rock-Industrial. The music is a big blend of dark styles, amplified by Johan's bass and Gustav's guitar, as well as their charismatic singer Angel Moonshine's versatile vocals. Normoria is a band that among writing about different topics, is characterized for standing up against discrimination, and for being an advocate to animal rights. While at the same time keeping the high energy electronic beats for the dance floor.
Their songs have appeared in many compilations around the world, and in the Native25 Charts, the German Electronic WebCharts (GEWC), and the Deutsche Alternative Charts (DAC), where their single "The Cost Of Freedom" was in the charts for 8 weeks. The band has been featured in popular German magazines like Sonic Seducer Magazine and Orkus magazine. Alternative music lovers from all over have expressed their appreciation and excitement at Normoria's new brand of music.
The band which is composed of American and Swedish friends was founded in 2016 by American lead vocalist and songwriter, Angel Moonshine. But it wasn't until 2017 that all the members came together as a band. After having played several festivals in Sweden along with artist like Suicide Commando, Noisuf-X, and Freakangel, on August 2020 the band released their 2nd EP titled, "VOYAGE". The music has a heavier sound, and it has been getting amazing reviews.
Normoria is a safe dimension where you can freely escape from your reality. A dimension, mysterious and beautiful, not immediately available to consciousness. A realm that one can only enter through a deep state of mind of musical dreams, where you can rest in peace.
Normoria Website // Normoria Facebook // Normoria Bandcamp
---
---
La Rissa
Two misfits making dark spooky synth pop in a dim little attic in Leeds. Featured on BBC 6 Music, BBC Radio 1 & BBC Introducing.
La Rissa Facebook // La Rissa Bandcamp
---
---
Nightmare Frequency
Industrial Noise from Scotland, by Deano Cook (Production, Vocals), Shian Blackwood (Live Synths / Noise), Damien Quinn (Live Percussion / Noise), and Alex Campbell (Engineering).
Nightmare Frequency Facebook // Nightmare Frequency Bandcamp
---
---