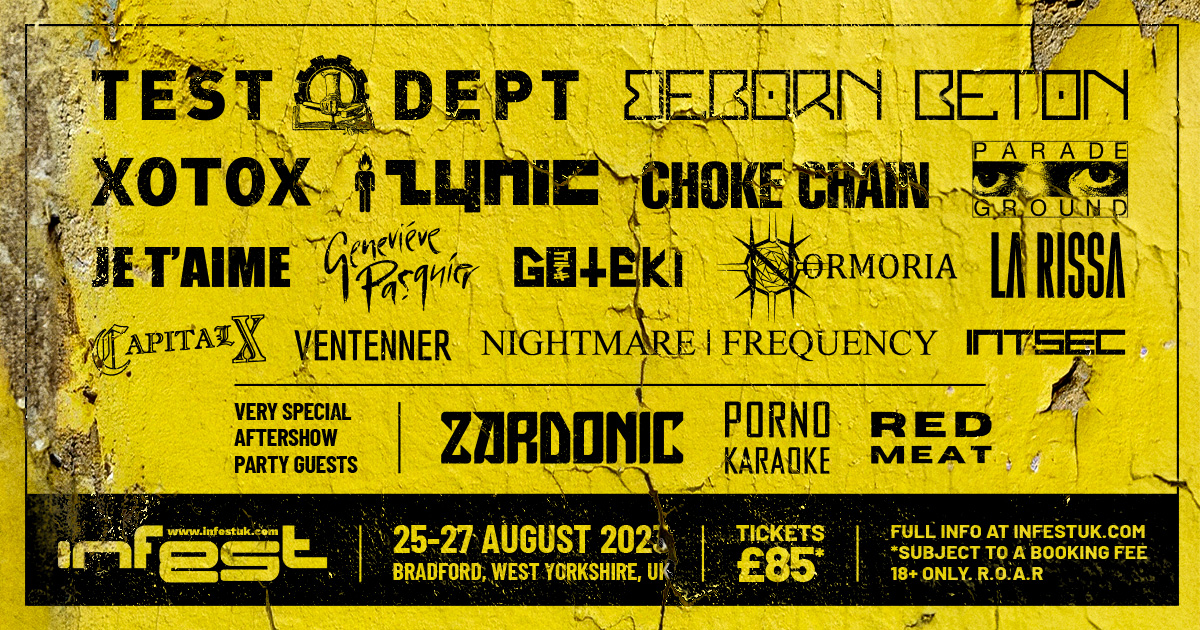 ZYNIC // BEBORN BETON // ZARDONIC // GENEVIEVE PASQUIER
Zynic
Zynic is a one man project founded by german musician H.P Siemandel in 2008. The sound of Zynic is a blend of actual influences, combined with timeless melodic elements from the 80s. Starting out as keyboardist and on backing vocals in several bands, he soon decided to dig deeper into electronics. After years of experiments with analogue synths, things got more and more serious and all of the soundscapes and noises started to take shape into melodies.
After a first appearance on several compilations, he recorded his debut album FIRE WALK WITH ME in 2011 with respected German producer Olaf Wollschläger (Mesh, In Strict Confidence etc.) and released the singles DREAMS IN BLACK AND WHITE and MY PERSONAL KRYPTONITE. The 2013 album BLINDSIDED and 2017 album NEON OBLIVION helped to reach a wider audience and to conquer dancefloors around the globe.
Due to an serious eye disease Zynic was never intended as a live act, but in 2019 H.P. started to play shows to get closer to his fans.
Get ready now for the new album BEST BEFORE END! An angry version of FIRE WALK WITH ME, full of hooks and bittersweet melodies that will make your ears and hearts bleed once again.
RETROPOP FOR THE FUTURE
Zynic on Facebook // Zynic on Spotify
https://youtu.be/_qVd5En8QQE
---
---
Beborn Beton
There is more than one way to listen to BEBORN BETON's ninth album "Darkness Falls Again". It is possible to just dance and enjoy contemporary synth pop hymns that have a solid musical based in the golden 80s with a dash of cool 90s influences. Catchy tunes and mature songwriting combine to form a sonic joyride. Yet BEBORN BETON also put their finger right on the pulse of our time and speak out against misogyny, sexual discrimination, and environmental destruction.
BEBORN BETON were founded by vocalist Stefan Netschio, keyboard player and drummer Stefan Tillmann, and keyboard player Michael Wagner in 1989. The trio set out with the declared aim to keep synth pop relevant and give it meaning. Following their first two regular albums "Tybalt" (1993) and "Concrete Ground" (1994), BEBORN BETON joined renowned acts such as WOLFSHEIM and DE/VISION in a new label home.
Having conquered Germany, the three electro-musicians rapidly expanded their realm abroad with the 1996 full-length "Nightfall", followed by "Truth" in 1997, and "Fake" (1999) that gained the Germans international acclaim by critics and fans alike. By the time, "Rückkehr zum Eisplaneten" ('Return to the Ice-Planet') was released in 2000, BEBORN BETON had firmly positioned themselves as a headlining act within their scene and toured all the strongholds of electronic music. Yet heavy touring and the highly demanding creative output of so many excellent albums in quick succession took their toll. After the release of "Tales from Another World" (2002) and an exhausting US tour, BEBORN BETON went on an extended hiatus.
13 years later, BEBORN BETON returned with a new album on Dependent Recordings to the delight and surprise of their still huge following. "A Worthy Compensation" (2015) was showered with accolades from the relevant magazines. Having learned from previous experiences and not to fall back into a relentless production cycle, BEBORN BETON took their time to write another masterpiece. "Darkness Falls Again" has all the ingredients that make synth pop great. Catchy songs that make the legs twitch, a dash of melancholy, a pinch of irony, and a knife-tip of anger – music with a meaning.
Welcome back RE-BORN BETON!
Beborn Beton on Bandcamp // Beborn Beton on Facebook
---
---
Zardonic
The clash of disparate elements activates innovation, and every generation brings us timeless figures who accidentally spark a new revolutionary sound within the music world. Chuck Berry mixed jazz, blues, gospel and country music to create Rock N Roll. A few decades later, Ozzy Osbourne turned up the gain to create Heavy Metal. And since the early 2000s, Federico Ágreda Álvarez, the masked performer known to the world as DJ and producer Zardonic, has harnessed the power of the nexus between Drum & Bass and Heavy Metal to create the sound that is now known as Metal & Bass.
Born and raised in Venezuela, inspired by America, and based in Germany with a passport book stamped into oblivion, he also represents a union of cultures. In his music, these elements charge forward on a collision course towards a future without creative or spiritual borders. Instead, the award-winning artist draws an inimitable energy from this confluence. Following a prolific string of releases, high-profile remixes and video game collaborations, packed shows on multiple continents, and 100 million-plus streams, he realizes the power and potential of his vision like never before on his 2023 full-length offering Superstars [MNRK HEAVY].
"It's been a long road trying to find the perfect flashpoint between the metal and electronic worlds," he states about his third MNRK studio album, which follows Antihero (2015) and Become (2018). "To me, music is a direct translation of human emotion. I'm all about bringing sounds and people together with no boundaries at all. I don't like limits, so my approach is to be limitless."
Boundlessness has defined his output since day one. Zardonic has cultivated an expansive catalog of original tracks and remixes for platinum icons, leaving his imprint on Pop Evil, Fear Factory, Bullet For My Valentine and Sonic Syndicate, among others. He has also contributed music to soundtracks for videogames such as Superhot: Mind Control Delete and Redout 2, plus features on All Elite Wrestling, TNT and NBC Sports.
He's the rare force of nature who can earn praise from both YourEDM and Metal Injection. Renowned as "Venezuela's Top DJ Act," he has impressively toppled Beatport's Drum & Bass Releases of the Week and Amazon's Hard Rock Bestsellers at #1. Not to mention, he even appeared in Warlocks Vs Shadows, standing out as "the first Latin American musician to ever be featured as a playable character in a video game.", and if you're a music producer yourself, chances are you've already used a few of his hundreds of factory presets and artist packs he's created for Arturia, Brainworx, Slate Digital, BABY Audio, GForce Software, and many more.
As if reflecting progression in palpable form, Zardonic's signature mask has evolved with him.
"To some extent, every mask marks the end of an era in my life and my way to approach music," he notes. "The mask from the Become album and recent tours received a lot of battle damage. I had to constantly glue it back together. The paint scraped off. It wore a lot of scars with pride, yet it was a huge weight on my shoulders because no longer want to these scars to rule my decisions. Hence, the new mask is the exact opposite: shiny, sparkly and full of life. You could say I'm constantly resurrecting the Zardonic character, so to speak."
The new album features an assortment of international talents from the Drum & Bass and Hard Rock worlds, including UK singer/songwriter Reebz, featured on the single "Bitter", as well as Nazareth singer Carl Sentance, Toronto Is Broken, Daedric, Hevy, Bruno Balanta from The Qemists, Rage guitarist Jean Bormann, Blitz Union, norwegian Blackjazz virtuosos SHINING, The Surgery & MC Reptile, Mechanical Vein, Camo MC, and Omnimar. "I am humbled to have such a strong relationship with a group of amazing people. I could spend hours writing about them, but they know themselves that if we're working together, it's because they mean a great deal to me. My most important thing is being able to genuinely connect with the people I work with. If I can't have fun with an artist, there's simply no point in it, and I am glad to call these amazing Superstars my friends."
In the end, Zardonic will unite listeners with Superstars.
"At the core of everything, I try to breathe life into people," he leaves off. "I'm blessed enough to be able to do what I love the most, and that is Music. Music is my own form of self-healing. It allows me to float above the darkness. Maybe, it will do the same for you."
Zardonic Youtube // Zardonic Website // Zardonic Spotify // Zardonic Instagram // Zardonic Tiktok
---
---
Genevieve Pasquier
German noise Chanteuse Geneviéve Pasquier is paying tribute to two cult classics from the 80/90s: 'cannibal night' originally by the french avant-garde and industrial act NOX and the song 'berühren' is originally from the minimal synth-pop act PROFIL.
The songs are performed in geneviéve pasquier's very own and unique style: dark electro avant-pop & neo-noir post-punk with her vulnerable and adorable voice.
This follows the fourth full length album, an imaginary arena where avant-garde, pop and industrial ingredients intermix in the most peculiar way like a milky oil-in-water emulsion. The thirteen atmospheric, captivating compositions build the foundation for easily understood and utterly incomprehensible thematic symbolism between bleak shadows and enjoyable brightness.
'louche effect' digs different stylistic gardens and shows the eccentric femme fatale at ease with a wide spectrum of sounds and subjects. it's sonic span ranges from highly dosed dark electro avant-pop with hooked new romantic melody lines and primordial neo-noir post industrial dreamscapes to eerily haunting chansons with deep ethereal lounge and downtempo elements. geneviéve's fragile, persuasive and sometimes highly modulated voice is carried by a wealth of electronic spheres stabilized with most different structures and dubious shady beats.